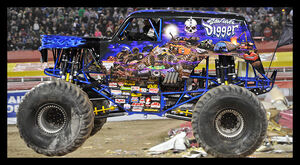 Son-Uva Digger is Monster Jam monster truck driven by Ryan Anderson since 2010.
The truck has received many fans and has made lots of wins resulting in good seasons.
The body truck is a custom Jeep and features a junk yard filled with other monster trucks. The skull and the shining moon have been inspired by the the original Grave Digger only upgraded.
Ad blocker interference detected!
Wikia is a free-to-use site that makes money from advertising. We have a modified experience for viewers using ad blockers

Wikia is not accessible if you've made further modifications. Remove the custom ad blocker rule(s) and the page will load as expected.