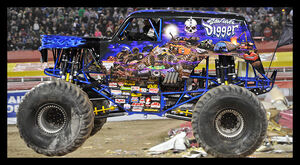 Son-Uva Digger is monster truck driven by Ryan Anderson since 2011.
The truck has received many fans and has made lots of wins resulting in good seasons.
The body is a 1950 Willys and features a junk yard filled with other monster trucks. The skull and the shining moon have been inspired by the the original Grave Digger monster truck.